RAWLINGS Pro Preferred 11.5 Pitcher/Infield Glove Right Throw PROS204-4BSS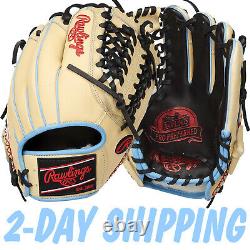 Rawlings Pro Preferred PROS204-4BSS 11.5 Right Handed Pitcher/Infield Glove. 2022 Pro Preferred 11.5-Inch Infield/Pitcher's Glove - Right Hand Throw.
Masterfully crafted from the finest, ultra-luxurious kip leather, the 2022 Pro Preferred 11.5-inch infield/pitcher's glove offers superior quality and performance. Its camel Speed Shell back reduces weight and offers added style and durability too!
As a result, this Pro Preferred infield/pitcher's glove will give you the confidence you need to snag any play that comes your way. In addition, all our Pro Preferred gloves feature a super comfortable Pittards' sheepskin lining, wool wrist strap, and padded thumb sleeve for an unmatched feel every time you wear them.
This gamer was also constructed in our popular 200-pattern, which offers a deep, wide pocket, and a Modified Trap-Eze web for extreme versatility for pitchers and infielders alike. The camel Speed Shell back is perfectly accented by the black palm & scarlet/Columbia blue colorway as well. This glove also includes hand-sewn welting for added style and comfort too!
The 2022 Pro Preferred 11.5-inch infield/pitcher's glove truly perfect. NO GIFT items for international order. Some items require signatures for receipt, if you ask to leave a package at your door, you are waiving your right to insure the package.